Are you looking to create self-hosted blog? Yes, then go with WordPress since this is the best free platform to start your personal blog or website. As you can also start with free hosted options like WordPress.com, TypePad.com, and Blogger.com, but you will get the most control by using self-hosted WordPress. It is also an easy to use, fast and very flexible. It comes with some great features to make your experience as blogger as much pleasant as possible. This is the reason most of bloggers prefer this platform.
Here in this article we will provide you with detailed instructions on how to install WordPress on web hosting account and how to start you blog after successful installation. Before going through this tutorial, you will need to have a domain name registered and web hosting with WordPress requirement.
How to install WordPress?
Here we will provide you with detailed and easy steps to install WordPress on your web hosting server. You just need to follow these easy steps to perform a manual installation of the latest WordPress.
1. Download the latest WordPress installation package
To start with the installation, you need to download latest WordPress from its official download page.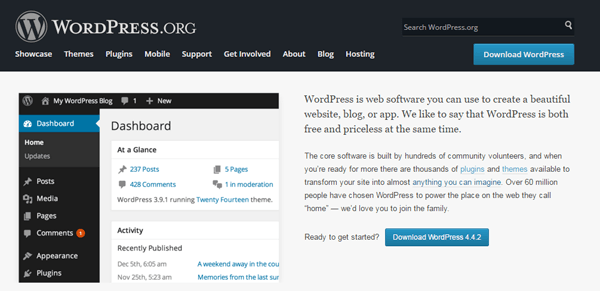 When you click on the download button, it will automatically download the latest WordPress version as compressed ZIP file on your computer hard disk. Now you need to extract download package files to a new folder to process with file upload to server in step2.
2. Upload WordPress Files to Web Server
Now you need to upload the extracted WordPress package files and folders to your web server. For this, you can use FTP software such as FileZilla, WinSCP or SmartFTP to upload files on your web server. You can also upload files directly via your web hosting cPanel -> File Manager -> Upload file(s).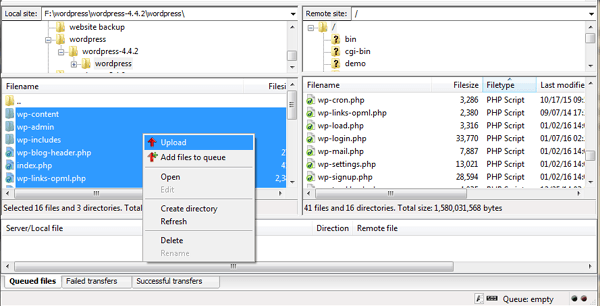 3. Create a MySQL Database for WordPress
Now, you need to create a MySQL database by going through your web hosting "MySQL Databases" section. Then create a user and assign a user to created database with full privileges. When you have created your MySQL Database and User, make sure you write down the created database name, database username and password. You will need those for the installation process.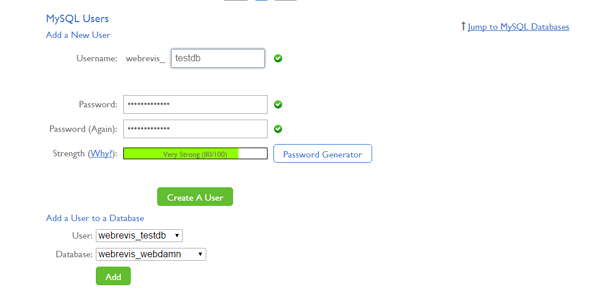 4. Now go through the installation process
After creating MySQL database for your blog, now it's time to navigate your website to start with the installation process. Suppose if you have uploaded your blog files in your web hosting public_html directory then you will need to go to http://yourdomain.com in your browser. At very first, a message will be displayed, telling you that you don't have a wp-config.php file and you should create one. You just need to click on the Create a Configuration File button to proceed.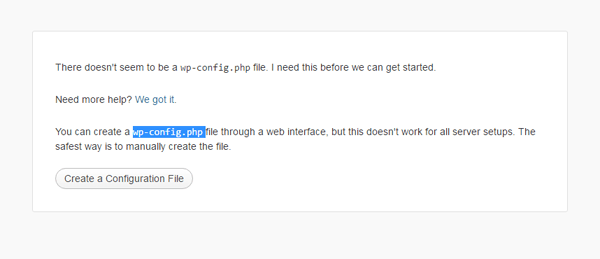 You will see a message on this page, asking you to get ready with the necessary information for the installation. Since you have already had this information, just press the Let's Go button.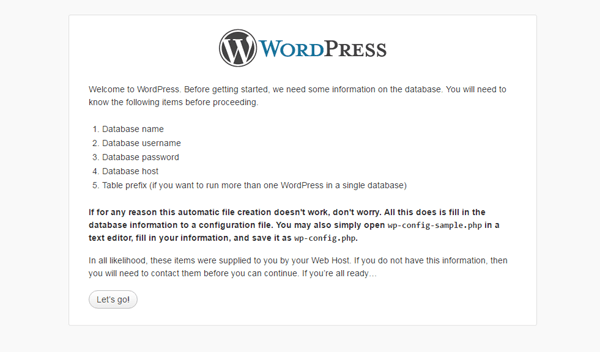 On this page you need to enter the details of your newly created MySQL database and press the Submit button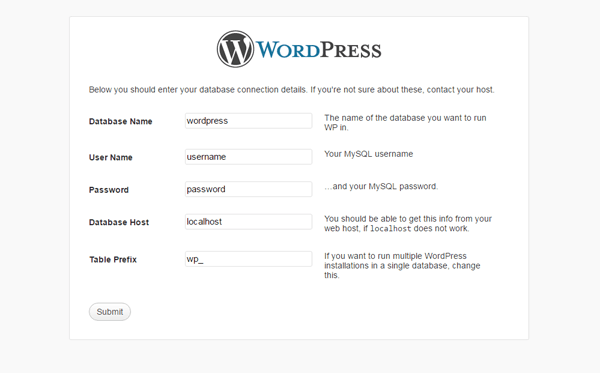 Now WordPress will check your provided MySQL database details. If you have provided correct necessary information, you will see a confirmation screen. Now press the Run the Install button to proceed.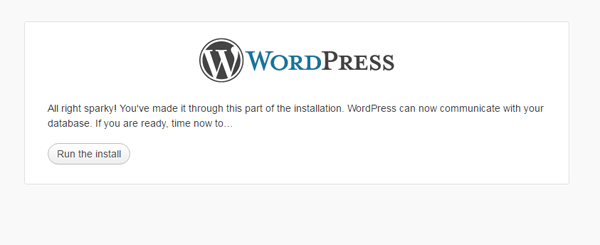 On this page you will have to enter the information about your administrative username, email address and the title of your newly created website. In addition, you can also specify whether you want search engines to index your website or not. Once you fill up with that information, press the Install WordPress button.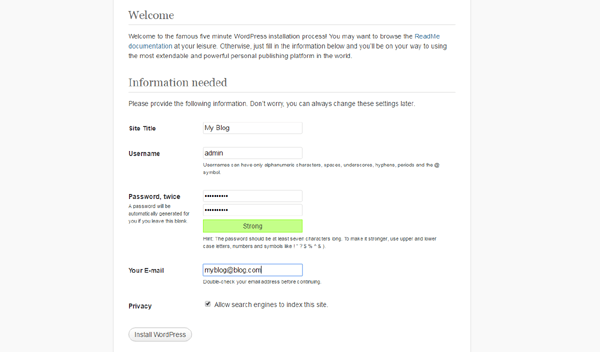 THAT'S IT! Now your new WordPress website is successfully installed. You can use the Log In button to access your administrative back-end and start posting in your newly created  WordPress website.